Have you ever needed help doing something? Needed someone to give you a lift, an extra hand, or offer guidance in some instance where you may need guidance? We have all probably needed some type of help one time or another in our lives.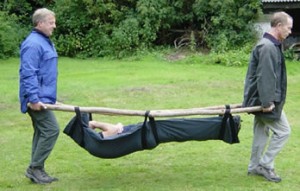 In Luke 5:17-26 we see Luke's account of Jesus healing the paralytic man. In this passage, we see that this paralyzed man being carried on a bed to see Jesus. His friends wanted to take this man to Jesus so that Jesus could physically heal him and he could walk again. These friends cared enough about him to carry him on his bed, climb to the roof, make a hole in the roof, & then lower him to Jesus. Those are some great friends.
Now I want you to think about your friends. Are you willing to carry your friends to Jesus? I'm not speaking of physically carrying them on a bed, but spiritually. Think how amazed these friends must have been when they heard the words of Jesus, "Man, your sins are forgiven you." They were just trying to get him to walk again. But the reward for their faith was the forgiveness of the paralytic's sins. Are you ready to carry your friends to Jesus?
How do we carry our friends to Jesus? 1. We must do whatever it takes. These friends could have given up or offered any excuse at anytime. But they did what it took to get their friend to Jesus. We must have faith and do whatever it takes in order for our friends to see Jesus. 2. We must realize our friends' greatest need. That need is Jesus. No one is getting to Heaven except through Jesus Christ. We all need Him to save us. 3. We must be urgent. Those friends knew Jesus was close by and they didn't know when He would be there again. We don't know how many opportunities we have to talk to our friends about Jesus. The time to carry our friends to Jesus is now. Will you?