"Somehow, somewhere along the way, we have lost sight of what should be the most important thing on the minds of Christians." ~J.C. Choate
If we were to ask each family represented in our congregation, "What challenges your family's spiritual growth?" I am certain we would receive a wide range & diverse set of responses. Topics such as finances, the world, culture, and "we are just so busy" would surely top the list of responses. I can attest first hand to the challenges we've already mentioned that create obstacles for each family. Our families must reprioritize the one hundred sixty-eight hours we are given each week based on God's plan!
Paul demonstrates our current challenges in Romans 1:28- 31, "And since they did n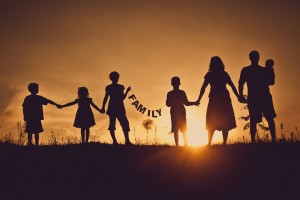 ot see fit to acknowledge God, God gave them up to a debased mind to do what ought not to be done. They were filled with all manner of unrighteousness, evil, covetousness, malice. They are full of envy, murder, strife, deceit, maliciousness. They are gossips, slanderers, haters of God, insolent, haughty, boastful, inventors of evil, disobedient to parents, foolish, faithless, heartless, ruthless." We can all agree the world is pulling at our family. Paul is painting a picture of immorality. I am reminded of the things he has mentioned each time I watch television or follow the news. Our family must be strengthened to stay away from such sin of the world.
Parents must be mindful of the responsibility we have in rearing our children in the face of such challenges. Our children represent the future of the church! We must ensure we are working together as a unit so they will know, obey and remember Him (Eccl. 12:1,13). We want our children and family to accept Christian responsibilities when it comes to worship (John 4:24), work (I Cor. 15:58), teaching (Mark 16:15-16) and study (II Timothy 2:15).
On April 30th, we will have an opportunity to learn from Bro. Jerry Martin. Bro. Martin is a licensed professional counselor and member of the church. What is most impressive about Bro. Martin is he has been married for forty-five years, has four children, and ten grandchildren. He will talk with us on how we can grow as Christians, parents, and mates based on God's Word. Both children and parents are invited to attend this opportunity at Trooper Island at Dale Hallow Lake. More details will be published in the coming weeks. Please plan on attending our FAMILY Weekend and join us as we seek to improve our relationship with God, with our spouse, with our children, and expand the borders of God's Kingdom.