The word March brings thoughts of spring, Julius Caesar, and basketball. March madness is an event in our sports culture unlike any other. Basketball has many elements to it. Dribbling, shooting, rebounding, defense, and other aspects of the game that a team must be proficient at in order to be successful.
Teams often focus their offense around the 3 point shot. The 3-point shot was adopted by the NCAA in 1986. The NCAA 3-point shot is 20' 9" from the basket. There are many great 3 point shooters today. All of these shooters have 3 things in common when it comes to shooting the basketball. These shooters focus on the goal when shooting, they square their bodies to the goal when shooting, and they follow their shot.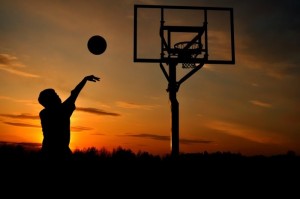 We can apply these same three principles to our spiritual lives. We must focus on a goal. Our goal as Christians should be to be as much like Christ as possible. The focus of our life should be Christ. Sports, jobs, money, hobbies, friends, etc. often become our focus when Christ should be the central focus. Prayer, worship, studying the Bible, services, etc. are all things that can help us keep our focus on Christ.
Secondly we must "square up" our lives with Christ. This means that our lives must be right in the eyes of the Lord. Sin is a problem in everyone's life. We must face the sins and struggles each day. In order to live as Christ commands, we must make our life right with him. Acts 2:38 Peter tells the crowd to repent and be baptized in the name of Jesus Christ for the forgiveness of sins. We must take action in order to square our lives up with Christ.
Lastly, we must be willing to follow God all of our lives. Being a Christian is a commitment and a challenge. But with that commitment comes a great reward. We all make mistakes, but we must continue to keep striving to be like Christ. Keep following the word of the Lord. Revelation 2:10 states to be faithful unto death and I will give you the crown of life.
Great basketball shooters are ready to make that game winning shot at all times. Have you made the eternity winning decision in your life to follow Christ? If not, I pray you will. The time to make the decision is now.