Youth Events
Young Men's Night
On Sunday evening, July 30, the young men of the congregation will conduct services. Please keep them in your prayers as they prepare to conduct this period of worship.
K-6th Grade Devo
The K-6th devo will be held Sunday, August 20, following the morning services. Mark your calendar and plan to attend.
7th-12th Devo
The 7th-12th Devo will be held Sunday evening, August 20,  following the PM services. Plan to attend.
Kings Island
Youth, 7th-12th grades, interested in going to Kings Island should contact Nick. This trip is planned for Monday, July 31.
Summer Youth Series
2017 Theme—Whatever Phil. 4:9 7:00 PM weekly
July 24-Three Forks-Brian Proctor
July 31-Tompkinsville-Austin Johnson
S.H.I.N.E. Youth Rally
The Three Forks church of Christ will be held Saturday, August 19. Contact Nick if you plan to go. The Deadline to order t-shirts is July 30.
CYC 2016
Taylor Christian Camp
Taylor Christian Camp is a spiritual, fun filled week in Allen County, Kentucky.  The week is spent studying the Bible, worshiping God, and building friendships with other Christians from around south central Kentucky.  Kids that have completed second grade to graduated high school seniors are campers this week.
Any youth that has completed the 2nd grade is eligible to attend camp. Applications have been placed near the entrances of the building. We are excited about our upcoming week of summer camp. If you are interested or have any questions, please see Nick Pace.
Horizons
Horizons is a week long leadership Bible camp located on the campus of Freed-Hardeman University in Henderson, TN.  This week is an in depth study of God's word, worshiping the Lord, encouraging one another, and making friends for a lifetime.  Spending the week with over 1,000 others dedicated to living the life of Christ is so encouraging and uplifting.  6th grade to graduated seniors participate in this leadership camp.
Applications for Horizons Leadership camp are now available. Horizons is located on the campus of Freed-Hardeman University.  If you are interested or have any questions, please see Nick Pace.
Evangelism University
A weekend youth event dedicated to teaching and preparing our youth to evangelize.  Teens participate in worship services, devotionals, in depth evangelism classes, and fun activities throughout the weekend.  Teens 7th grade to high school seniors participate in this event. Visit the webpage here.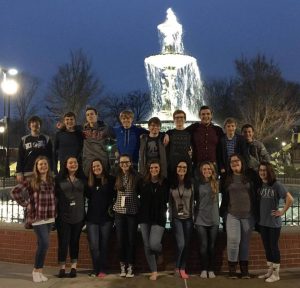 Evangelism University 2017
Challenge Youth Conference
Spiritual filled weekend in Gatlinburg, TN. worshiping God and studying His word.  Youth 6th grade – seniors in high school participate in this event.  Teens participate in worship services and devotionals thorough out the weekend.
Monthly Devotionals
Teens and their families participate in monthly devotionals worshiping God and studying the Bible.  Teen guys are usually in charge of leading the singing and prayers.  Short lessons are presented to the teens and families on relevant topics.  These are usually hosted by a family from the congregation or at the church building in the Youth Center.
Youth Rallies
Teens attend and participate in area youth rallies.  At youth rallies, teens participate in worship services, attend classes, participate in service projects, etc.  Youth rallies are also great opportunities for teens to meet and build friendships with other Christian teens in the area.  3 – 5 youth rallies are usually attended a year
Sr. Members Banquet
The teens of the congregation host a night honoring the senior members of the congregation.  Teens decorate, serve a meal, and provide entertainment for the evening to the seniors.  This banquet is usually once a year and 6th – 12th grade teens participate.