We all get distracted. No one is immune.
In our age of technology, there seems to be no end to the number of distractions competing for our attention.
A major source of distraction can be our cell phones. Don't misunderstand me, I do not plan to give mine up anytime soon. However, there are some pertinent biblical lessons to be learned.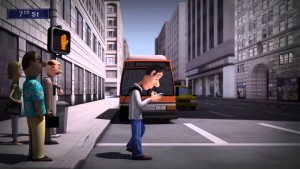 It is reported that in 2014 there were more than 2,500 pedestrians admitted to emergency rooms around the
country for accidents related to "cell phone distraction." This means that in one year we had a few thou-
sand people with eyes so fixed on their phones that they literally walked right into danger and injury!
Just a few days ago a story broke out of England. A 20-foot-high sculpture of two clasped hands that
formed an archway over a path on the grounds of the Salisbury Cathedral in Wiltshire had to be relocated because walkers kept bumping into it. There is well over 6 feet of clearance in the archway. Why did the pedestrians keep bumping into it? Their eyes were fixed on their phones! They were texting and walking.
It may be hard to imagine yourself being so fixated on something that you fail to notice the 20-foot-tall galvanized blue steel hands in front of you. But it happens and we all do it.
Let us use this rather unusual story to remind us to focus on the right things.
Let us have our eyes fixed on eternity (Col. 3:1-4).
Let us have our eyes fixed on Jesus (Heb. 12:2).
Oh that my ways may be steadfast in keeping your statues! Then I shall not be put to shame, having my eyes fixed on all your commandments. I will praise you with an upright heart, when I learn your righteous rules. (Ps. 119:5-7)
And he rolled up the scroll and gave it back to the attendant and sat down. And the eyes of all in the synagogue were fixed on him. And he began to say to them, "Today this Scripture has been fulfilled in your hearing." (Luke 4:20-21)