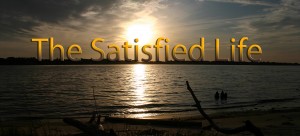 Most of us are desperately longing for satisfaction, but do not know how to obtain it (such has always been the case, not just since 1965).
It is common to hear athletes claim that they will not be satisfied until they are champions. Therefore, they work with dogged determination and tenacity to improve their bodies and their skills. Yet, even with a championship ring on their finger, they still ask, "Is this it? Is this really all there is?" True satisfaction is not to be found with sports.
This is also common in the business world—there is no satisfaction until one is making more money and has reached the top of the corporate ladder of their particular profession (and even then, such turns out to be a hollow / empty experience). True satisfaction is not to be found in personal achievement either.
Things such as this are merely idols that we create. These counterfeit gods lead to our demise and destruction.
The key, of course, is Jesus Christ. Augustine said it this way about the Lord: ". . . you have made us for yourself, and our heart is restless until it rests in you." We will never be truly satisfied until He is the source of our satisfaction! We will continue to be restless . . . looking for answers . . . until we discover that such can only be had by a deep connection with heaven.
Consider these divine words of wisdom: "The fear of the LORD leads to life, and whoever has it rests satisfied; he will not be visited by harm" (Pro 19:23).
Jesus said, "Blessed are those who hunger and thirst for righteousness, for they shall be satisfied" (Matt 5:6).
In speaking with the Samaritan woman at the well of Jacob, "Jesus said to her, 'Everyone who drinks of this water will be thirsty again, but whoever drinks of the water that I will give him will never be thirsty again. The water that I will give him will become in him a spring of water welling up to eternal life'" (John 4:13-14).
When we are unable to get satisfaction, it is most likely because we are looking in the wrong places—we are consulting the wrong sources. Let us pursue God alone. "As for me, I shall behold your face in righteousness; when I awake, I shall be satisfied with your likeness" (Ps 17:15).