In Matthew 8 & 15 we see two separate accounts of people that display a second-mile faith in Jesus. The Roman centurion of Matthew 8 approaches Jesus asking Him to heal his paralyzed servant. The Canaanite woman of Matthew 15 approaches Jesus requesting that He remove a demon from her daughter.
Both of these accounts show us a model in second- mile faith. The Roman centurion and the Canaanite woman both overcame obstacles in their approach of Jesus. They risked ridicule and rejection from their own people and culture. But they viewed Jesus as the only one that could help them in their time of need.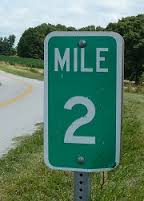 How did the centurion and the Canaanite woman display a second-mile faith? They placed themselves firmly in the presence of Jesus, they longed to see God's power work in the lives of others, they honored the heart of the King, & they put everything on the line to come to Jesus. There faith was so evident by their actions, that Jesus healed both the centurion's servant and removed the demon from the Canaanite woman's daughter. Jesus described both of these as people of great faith.
So how do we have a second-mile faith? Our focus must be finding Jesus. We must center Jesus around everything that we do. The words we speak, places we go, and things we do must be focused on Jesus. Secondly we must be bold in coming into the presence of Jesus. The Canaanite woman was persistent even after the disciples had encouraged Jesus to send her away. We must strive to be in the presence of Him by having a relationship with Him through Jesus.
Thirdly, we must be humble. We must practice humility and strive to be a humble servant in His kingdom. Fourthly we must trust God in all things. His vision is greater than ours. We must believe that God will always give us His best.