The human body must have water to survive.
I'm told that the average human can go without food for about three weeks, but water is a different story.
The maximum time an individual can go without water seems to be less than one week (more like three or four days, an estimated time that is much shorter in difficult conditions such as extreme heat).
At least 60% of the adult body is made of water and every living cell in the body needs it to keep functioning.
Water acts as a lubricant for our joints, delivers oxygen to the body, regulates our body temperature through sweating and respiration, acts as a shock absorber for the brain & spinal cord, and helps to flush waste.
The bad news: our bodies are constantly losing water.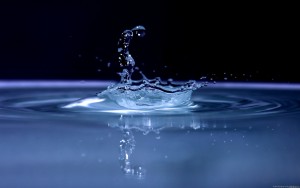 Even when we exhale we are losing water!
If the lost water is not replaced, we will quickly find ourselves in a very dangerous situation and in need of medical attention.
For maximum health, we must be intentional about keeping our bodies hydrated—full of water.
To cut off our supply of water is to guarantee that our body will very soon shut down and die.
Jesus is the Master Teacher (John 13:13). Jesus is the Creator and Sustainer of life (John 1:1-3; Col. 1:16-
17). Is it then any wonder that Jesus continually stressed our need for water?
John 4:13-14—
Jesus said to her, "Everyone who drinks of this water will be thirsty again, but whoever drinks of the water that I will give him will never be thirsty again. The water that I will give him will become in him a spring of water welling up to eternal life."
John 6:35—
Jesus said to them, "I am the bread of life; whoever comes to me shall not hunger, and whoever believes in me shall never thirst.
John 7:37-38—
On the last day of the feast, the great day, Jesus stood up and cried out, "If anyone thirsts, let him come to me and drink. Whoever believes in me, as the Scripture has said, 'Out of his heart will flow rivers of living water.'"
It is Jesus who gives us strength and life!
Without water we soon die—our bodies must have it in order to sustain life.
In like fashion, without ongoing sustenance from Jesus, we will soon become weak and die.
Water is necessary for life.
Let us drink deeply of the water Jesus offers.