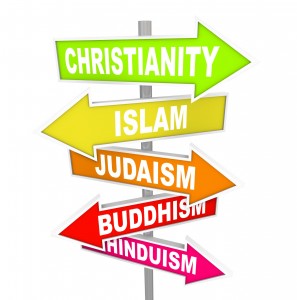 The existence of God means the existence of objective truth.  There is a Moral Lawgiver and He has established standards.  There is such a thing as "right" and there is such a thing as "wrong."  This does not change based upon feelings or preferences.
A number of years ago, my grandfather, the late Thomas B. Warren, wrote the following lines.  I include it here today because the message is just as relevant and timely as the day he wrote it.
"We are living in a day when the average man on the street says, 'One religion is as good as another.'  The scholar in schools of higher learning says, 'One religion is as false as another.'  The politician says, 'One religion is as useful as another.'  Our world today is one where God's word has become like taffy in the hands of some who pervert it and twist it to meet their selfish desires and agendas.  We cannot afford to fellowship with false teachers or embrace their heretical teachings (2 John 9-11; 2 Tim 4:2-4).  Never has there been a greater need for God's children to, 'Ask for the old paths, where the good way is, and walk in it' (Jer 6:16).  Therefore, let us each resolve to take a stand and 'hold fast to the pattern of sound words' (2 Tim 13)."
It matters what we believe.  It matters what we teach.
It is not what I enjoy the most, what makes me most comfortable, or what I have a special talent for that sets me free—it is the truth that sets me free (John 8:32).
May we have hearts full of compassion, kindness, patience and love—but let us never compromise the truth.  A sign of spiritual maturity is having the ability to hold to the truth of God while remaining loving and caring (Eph 4:15).