Most of us need a word of encouragement that things can get better—that circumstances can improve.
We need to hear that things can turn around. Also, we need it to be true...not just wishful thinking.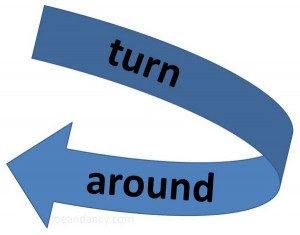 Because of this, the book of Esther can be such an encouraging and uplifting story. The historical account of Queen Esther and Mordecai fortifies the spirit and instills confidence in Almighty God.
A major theme in the book is that of reversal. As we read, we see a story unfold where men and women trade their position of doom and defeat for a position of joy and victory. We read about one reversal after another.
One example:
Early in the story, a murderous and vengeful man named Haman is in control.  He is confidant to the King and in a significant position of power. He hates the Jews and wishes and plots to see them destroyed.
"So the king took his signet ring from his hand and gave it to Haman the Agagite, the son of Hammedatha, the enemy of the Jews." (Esther 3:10)
The reversal:
Mordecai, a Jew and Esther's protector, takes the place of Haman as the right-hand-man of the king.
"And the king took off his signet ring, which he had taken from Haman, and gave it to Mordecai. And Esther set Mordecai over the house of Haman." (Esther 8:2)
Another example:
At one point, Mordecai is appalled and distraught when he learns about the wicked plan against the Jews.
"When Mordecai learned all that had been done, Mordecai tore his clothes and put on sackcloth and ashes, and went out into the midst of the city, and he cried out with a loud and bitter cry." (Esther 4:1)
The reversal:
Mordecai goes from torn rags and sackcloth and ashes to regal robes and joyous fanfare.
"Then Mordecai went out from the presence of the king in royal robes of blue and white, with a great golden crown and a robe of fine linen and purple, and the city of Susa shouted and rejoiced." (Esther 8:15)
What beautiful imagery! What a powerful lesson! Things can turn around! With a loving and powerful God in control, our fears can be overcome and our trek down the wrong path can be rectified and changed.
While it may not be the case that every story will have a happy ending in this life, it remains true that we serve a God of reversals. A God who brings light into the darkness. A God who gives life to the dead. Because of Jesus, things can turn around! Stay faithful, heaven will be worth it!
"For I consider that the sufferings of this present time are not worth comparing with the glory that is to be revealed to us…and we know that for those who love God all things work together for good, for those who are called according to his purpose." (Rom. 8:18, 28)