As early as 1823, Alexander Campbell came to Glasgow, KY and preached in the hallway of a frame-house that belonged to a Mrs. Frank Gorin. However, it was not until seven years later, in 1830, that the Church of our Lord was organized in this community. In 1837, the first meeting house was built, at our present location, and for the next 65 years or so, the Church prospered here. This ended, sadly, in 1902, when the congregation digressed over the introduction and use of the musical instrument during worship. As a result, many brethren walked out and temporarily met in either the local courthouse or a public school building.
It was during this time that men such as Issac T. Reneau, T. Q. Martin, J. N. Armstrong and T. B. Larimore labored with the congregation, and F. B. Srygley and James A. Harding held their respective Gospel meetings. In 1905, a permanent church building was built on East Main St, the first worship service being held on October 1st. The dedication speaker was T.Q.Martin. For reasons not quite known, the site of the original building in Glasgow (our current location) was secured and a building was erected several years later, even though East Main continues to assemble to this day.By 1916, this building burned and another was built in its stead.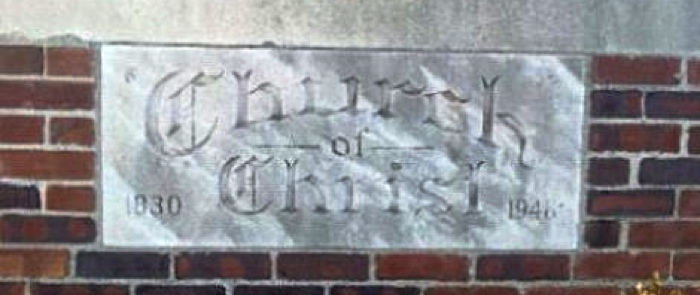 Much of the credit for the success of these good works goes to the untiring efforts of F. J. Fant, honors also belonging to Guy L. Comer and Will Hatcher and their families, all of whom took leading parts in this great endeavor. In 1948, however, this building was razed and a new building was built in its place.  In 1995, a major addition to this building was begun, which provided an elevator, enlarged our auditorium, added more classrooms and new offices, and added a Youth Annex. This project was completed in 1997 and the debt was retired at the end of 2006.
The present Elders serving this congregation are: Mark Bowman, Scott Bradford, Roger Cline, Leland Glass, Tommy Gumm, Darrell Pitcock, William Pritchard and Rollin Simmons. They are supported by the following Deacons: Stephen Floyd, Doug Frasier, Robbie Fudge, Michael Gill, David Gray, Allen Jones, Frankie McCoy, David McCracken, Nick Pace, Chris Page, Jackie Perkins, Glenn Pitcock, Joe Prichard, Kevin Redford, Brandon Turner, and Ronnie Turner.
Elders who have served in the past are: F. L. Fant, J. H. Kidd, John P. Wilkinson, O. B. Burford, E. L. Simmons, Guthrie Edwards, Charles Proffitt, Grover Wyatt, Albert Lyle, John Brake, George McKinley, Roger Pritchard, Luke Morgan, Depp Stephens and Charles Tidwell.
Our current Ministers are Bart Warren, Allen Jones, and Nick Pace. Those who have served in this capacity in the past are J. W. Grant, Willie Allen, James J. Reynolds, Allen Phy, A. R. Hill, Sr., C. G.Caldwell, E. W. Stovall, John P. Murphree, William Potts, Jess Hall, Sr., Ralph Stout, O. D. McKendree, Robert Bradford, Charles Tidwell, Mark Teske, Steve Higginbotham, Blaine Kelly, and Jesse Wagner.
The South Green congregation has had a long history of faithful service to God's kingdom, and with the Lord's help, we will continue to be fruitful.